Open Day!
Recently, our school Lyceum Kralingen hosted an open day which offered the perfect opportunity to show the public what we do and want to achieve.
Team Roboticus is famous for its football robots, but our team has grown over the years. Because of this growth, Team Roboticus created junior sub teams that focus on other types of robots. Four types of robots were on display: Football Robots, Sumo Robots, Line Following Robots and a Humanoid Robot were on display. Each subteam had its own stand which enabled other robot enthusiasts to ask questions and try out the robots themselves!
Aside from sharing general information about our Robotics Club, we also organized a Sumo Robot Competition! This competition offered an engaging activity for all of our visitors. For the past months, our youngest members have been working on Sumo Robots. They finished their very first robotics project by competing against each other in the competition. In the end the winner was awarded a trophy and the rest of the participants a golden Team Roboticus medal!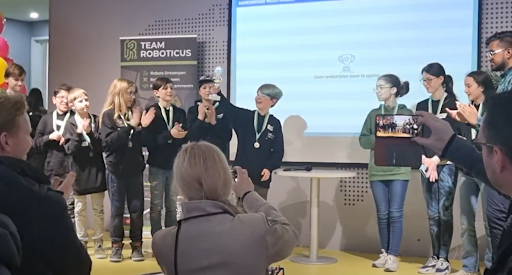 This day was extremely successful, many visitors left feeling inspired and motivated to join our team. We will continue promoting robotics and STEM education so that we can develop and educate the innovators of the future!
The highlights will soon be shared on our YouTube Channel. So stay tuned!